The Ensemble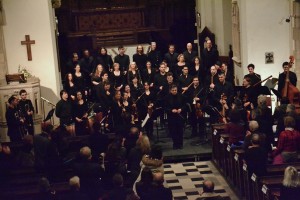 The Telemann Ensemble is an instrumental and choral group specializing in baroque and classical music. Composed of choristers and musicians who play on period instruments,the Telemann Ensemble was founded in 1992 by Rafik Matta who is also its Artistic Director.
Since its foundation, the Telemann Ensemble has sought the revival of lesser-known works of the baroque repertoire, among which Jean Gilles's Requiem, a premiere in Montreal presented in February 1993, in addition to performing works of the wider repertoire, like the sacred cantatas of Bach and Buxtehude, Bach's Orchestral Suites and Brandenburg concertos, Telemann's Tafelmusik, italian baroque and renaissance music and the instrumental and vocal works of many other composers of that period.
Already praised by the South-Shore music lovers, the Telemann Ensemble has been performing regularly in the last few years on the island of Montreal before enthusiastic audiences. In 2002, the year of its 10th anniversary, the group performed Handel's Messiah in its original complete form .Messiah had previously been performed in 1997 in Saint-Lambert and two other performances ofMessiah were later given in 2010. In December 2003, yet another complete performance, Bach'sChristmas Oratorio, was given a rave review and was recorded on a CD.
The will to perform rare or original works was constantly reasserted, namely with one of the concerts given in 2004 titled : les grands motets des maîtres français. Two of the four works of that concert were performed for the first time in North America.
In 2005, the classical period was at the forefront of the Telemann Ensemble's season with a performance of Mozart's Symphony No. 34 and his famous Requiem, played on authentic intruments, another Montreal premiere. Among the concerts given that year, one must underline the participation of the eminent pianofortist Tom Beghin and CPE Bach's E minor concerto.
In November 2008, the Telemann Ensemble has launched a second CD that comprised two of the works performed in October 2006 at McGill University's Pollack Hall. The title of the CD is "Bach & Purcell " and includes Bach's Motet Jesu Meine Freude and Henry Purcell's Dido and Aeneas.

In celebration of its 20th anniversary in 2012, the Telemann Ensemble  gave a concert titled " Bach, Miles et les autres…", a colourful vignette where the cantatas of J.S. Bach were performed in counterpoint to the works of Miles Davis, Thelonious Monk and other giants of contemporary jazz. For the occasion, Rafik Matta had enlisted his jazz trio (the Raf's jazz trio) to play along theTelemann Ensemble.
November 23rd 2013 was marked as another memorable event in the long history of the group. It is on that day that the Telemann Ensemble performed J.S. Bach's Mass in B minor BWV 232 at Christ-Church Cathedral in Montreal.
Several exerpts from the concerts listed above can now be viewed onYoutube on the following channel: crumhorn705.